Botany can really Ruffle Feathers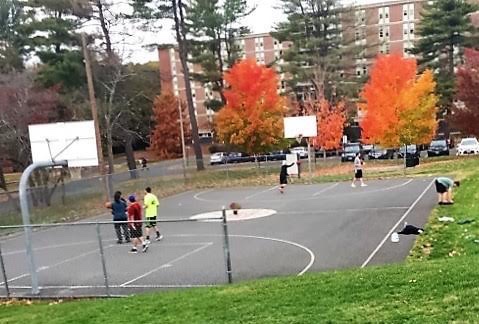 Amherst, MA - A normal day of competition at the basketball courts on Orchard Hill turned into mayhem as a mysterious plant turned up. Smack dab on the center dot. The individuals taking part in various 1v1 and 2v2 games seemed to carry on their business without even batting an eye.
I had never seen anything like it at the time and I was determined to see if anybody else saw this as a remarkable occurrence. Straying away from interrupting the basketball games, I embarked on a visit to the hill to see if the mysterious plant had the same effect on others.
Various groups were scattered around the hill on this chilly, early November afternoon. All groups looked inviting so I just chose one. The chosen group, with their colorful tarps, elegant glass water vases, hula hoops and drums seemed to be knowledgeable about a subject of this sort. "I think it's a conspiracy, man" commented one of the individuals after he drew some sort of vapor out of the vase, "The school is trying to distract us from the fact that you can no longer take a bag at Frank Grab n Go." "I think it looks nice, really adds some life to the concrete slab!" Commented a hula hooping girl.
Whatever the case may be, stay aware of plants on basketball courts: they might not always be what they seem.
---
---
For more articles by Armädeius Galouei, click here. To establish direct correspondence, email armgalou@surrealtimes.net.
---