AN UPDATE ON SOUTH WORCESTER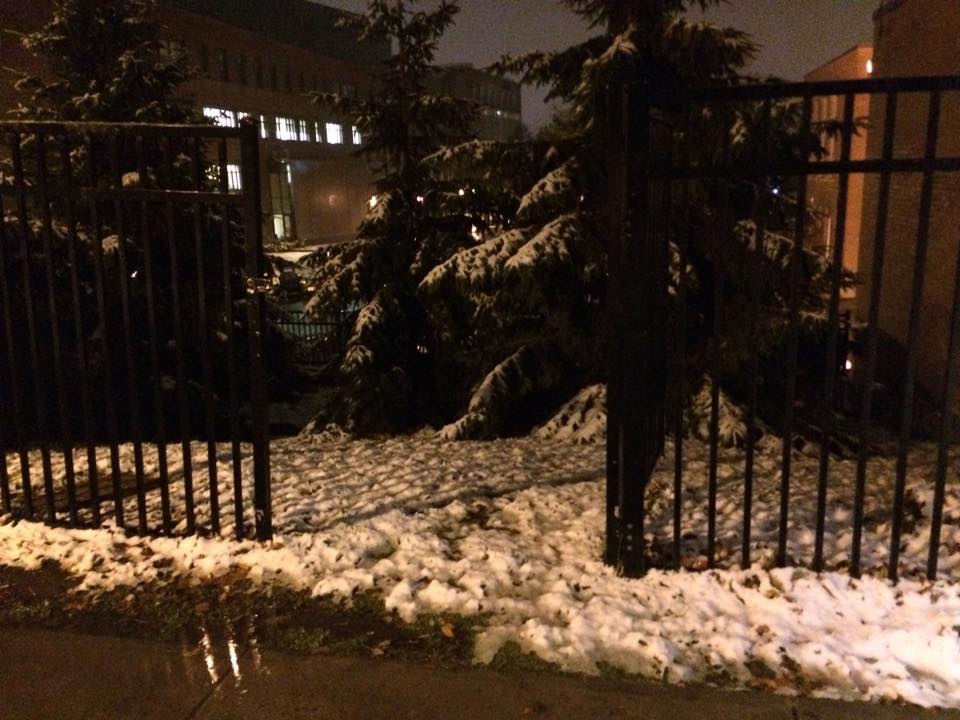 Many years ago, Worcester Dining Commons employed a green-haired hitch-hiker, Jeff O'Lume, who had come upon Amherst and decided to settle down. At this time, Mr. O'Lume had no money or possessions. Therefore, during the initial years of Mr. O'Lume's employment at Worcester Dining, he had no option but to sleep on the prickly grass of Orchard Hill.
But Mr. O'Lume has since progressed up the ranks from Tomato Slicer to Cheese Sprinkler to Slice Slicer to Pizza Cooker to Chief Pizza Designer Emeritus. He received many salary increases and eventually he became quite wealthy. In fact, Mr. O'Lume became so wealthy, he was able to fund a not-for-profit education organization called PATHSSFT (Pizza and Train Hopping School Super Fun Time), which worked in collaboration with The University to teach practical skills in addition to theoretical and academic subjects.
In the process of founding and managing PATHSSFT, Mr. O'Lume became acquainted with members of the UMass administration including the Chancellor himself.
O'Lume and Chancellor Subbaswamy began as associates working for a common cause. But progressively, they became friends. UMass alums report seeing the two frolicking together around the campus ponds, telling stories to eachother and telling jokes. O'Lume even constructed a swing-set for the Chancellor at the Chancellor's house. Many alums reported seeing the two swinging together, watching the sunset and drinking wine.
The collaboration between PATHSSFT and UMass reached far and wide, benefiting millions of students if not tens of millions. Yet all so suddenly as it formed, the wonderful philanthropy came to an abrupt halt. Chancellor Subbaswamy abolished PATHSSFT, citing the organization for corruption, money laundering, and the indoctrination of our youth. Our rags-to-riches hero pizza Cheff, the alleged mastermind of the aforementioned crimes, was imprisoned just South of his beloved Worcester Dining Commons. Mr. O'Lume was sentenced to gaze upon what he loved for all eternity from behind bars.
It was generally understood that this was a necessary and just punishment.
However, during the bihex 14 B.S.T., Mrs. Subbaswamy produced a baby. It was a beautiful baby, but it grew green hair.
Subbaswamy filled with rage and banished Mr. O'Lume to a distant and unknown land. After doing so, he imprisoned the green-haired child in South Worcester Prison. Not long after, Newborns far and wide began sprouting green hair. In response, Subbaswamy formed a detainment force comprising alums and students alike. The ROTC program led this force in the rounding up and imprisonment of all green-haired children.
These green-haired children were put in prison, and in prison they were to remain for the duration of their lives. They matured behind those bars. Sympathizing passersby would feed them bread. Rain would bring them water. But nothing more could be done for them.
Just last bihex, though, it was reported that the lock had been cut. Subbaswamy rounded up his imprisonment force and went searching for green-haired children. He searched everywhere, coming up empty, only to find that, despite the lock having been cut, and although the prison gates swung wide open, every green-haired child remained in its place willingly.
Sympathizers tried convincing the children to run and hide, but the children cowered away and hide in the shadows of their cells. Subbaswamy replaced the lock. It was cut yet again. But the children neglected to escape yet again, and so Subbaswamy no longer bothers to replace the lock.
This is old news. The new news is that small, potted plants have been being left in South Worcester Prison by anonymous visitors. If you know the source of these potted plants, please contact ROTCDPIP or Chancellor Subbaswamy himself. Also, be aware that you are not welcome at South Prison visitation hours while wearing a backpack. This rule is necessary to prevent smuggling of goods. Be aware, from this time henceforth, wearing a backpack in those walls is a prosecutable offense. Be aware of this, and be aware that this will be camera-enforced during the hours when the gates of South Worcester Prison are not manned.
---
---
For more articles by Clarence Mon, click here. To establish direct correspondence, email cmon@surrealtimes.net.
---