Teenager Looses Tooth Cigarette Jousting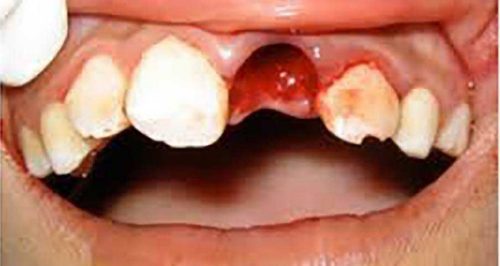 I had a 19 year old come into my firm recently with a missing front tooth. It's always a shame to see someone young and handsome with damage to their dental structure.
He was fearful that there was nothing I could do to fix his smile. "I'm a model for a toothbrush company," he said, "my entire career depends on my smile." I was quick to reassure him that I could fix it just fine, and that that was no reason to worry.
However, I told him the real reason for worry was whatever behavior knocked out the front tooth, because such behaviors are doomed to be repeated. I told him, "Life is like a tooth. It is durable, but if treated badly consistently, it will wear down and rot, until it does nothing but hurt."
So when he told me that he "just fell, it was no big deal," I inquired further. I asked him what exactly happened.
As it turns out, it was "cigarette jousting" at its worst. A heavily-anticipated match between my patient and a competing pledge to the Phi Sigma fraternity, led the students to ram into each other head-to-head. My patient lost his tooth on impact, and swallowed it along with half a cigarette when fellow pledges made him prove that he was not hiding the cigarette in his cheek.
I replaced his tooth and gave him a talk about the dangers of cigarette jousting. He nodded his head yes, but honestly I knew I wasn't getting to him. They were empty nods until I told him his career was doomed unless he stopped this nonsense immediately.
"Like teeth," I told him, "life requires consistent care." CONSISTENT CARE LIKE THE CARE I PROVIDE AND AM ALWAYS WILLING TO PROVIDE TO MY BEAUTIFUL PATIENTS, WONDERFUL FRIENDS, AND LOVING FAMILY, HERE AT AMHERST DENTAL, WHERE CUSTOMER CARE IS WHAT OUR HEARTS AND MINDS ARE PROGRAMMED FOR!"
From the editors: Mr Gigliotti's report ends here, but an anonymous source reports the following continuation of the story.
"Right… Mr. Gigliotti, sure thing..." nodded the disinterested 19 year old, further infuriating the dentist.
Mr. Gigliotti exploded. "What are you doing coming into my office like that, accepting my care but not my thoughts? Why are you here if you don't want to listen to what I have to say? Do you have a fucking clue what it's like being me? I work hours upon hours upon hours, smelling people like you's turd breath, just to help you fix your problems. What about my problems? GET OUT OF HERE. Do you know that every day after work, if work ever ends, I go into the x-ray machine all alone -- I don't even wear the protective vest -- why? Because by the end of the day, after all the trouble people like YOU put me through, I want to capital 'D' Die. Now get the F**K out of my office."
"Okay… fine, I was hoping to get this fixed at least, but I'm going to go somewhere else I guess."
As his patient walked out of his office texting, Mr. Gigliotti experienced a change in outlook. "Come back, please," he asked. "I'll help you with your tooth. And, also, you need a tooth cleaning and a cavity filling and a root canal and many other procedures. Come back please.."
He grew angry: "And you need to pay the consultation fee! NOW! Come pay up or I'll sue you!"
When the boy was gone, Mr. Gigliotti returned to the x-ray room. For hours he could be heard turning the machine on and off, counting his bones after each x-ray and repeatedly voicing his frustrations that all of his bones "[remained] present".
---
---
For more articles by Bernard Gigliotti, click here. To establish direct correspondence, email gigliotti.bernard@surrealtimes.net.
---