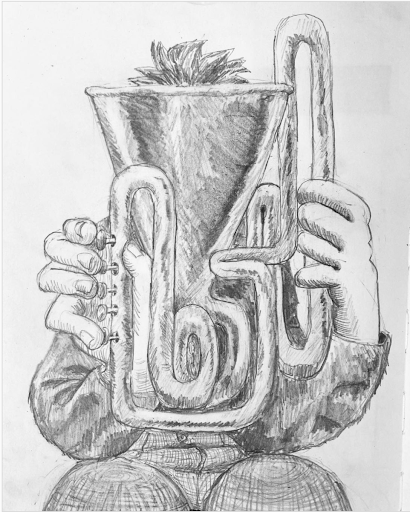 [Artist's depiction of this tuba-obscured man by Flynn Brian @flynnmakesart]
He never reveals his face. Some ask why, man, do you not show your smile to the world? Your smile is your spirit announcing that it exists..
The tuba man explains that his smile never got him far in life. It can only be seen. His tuba, however, can be seen, heard, and even felt. It engages far more senses than a smile ever could. The low frequency rumblings travel through stadium walls and for miles over hills in all directions.
"I do not smile, I do not frown, I express these feelings through my sound," he explained.
After a pause, he elaborated, "I never understood why people identify so closely with the sphincter on their face.
Without intending to, this tuba master has inspired many others around him to rethink how they present themselves to the public. Walking about the town of Amherst nowadays, the cultural shift is hard to ignore. Instead of tattooing meaningful totems or symbols, college students are simply duct-taping sentimental items to their heads and arms. I've seen everything from musical instruments, to birth stones, to pinecones, taped or tied to people's bodies.
One guy even hung live worms from his ears. I asked him why they mattered to him. He said "it's symbolic" and told me not to question his spirituality.
For more articles by Dernberger Spengleton, click here. To get in touch with this writer, email spengleton@surrealtimes.net.
---
Comments
[Ashlee@Jan.10 11:33am]: Hi there, all the time i used to check blog posts here early in tthe dawn, as i like to find out mlre and more. https://Livegamevavada.Webgarden.com/
[default@Mar.08 12:39am]: default
POST A COMMENT
---
See Also
Want to read more news? Click here for a random article.