Furry Feminism Revitalizes Hair Anywherespray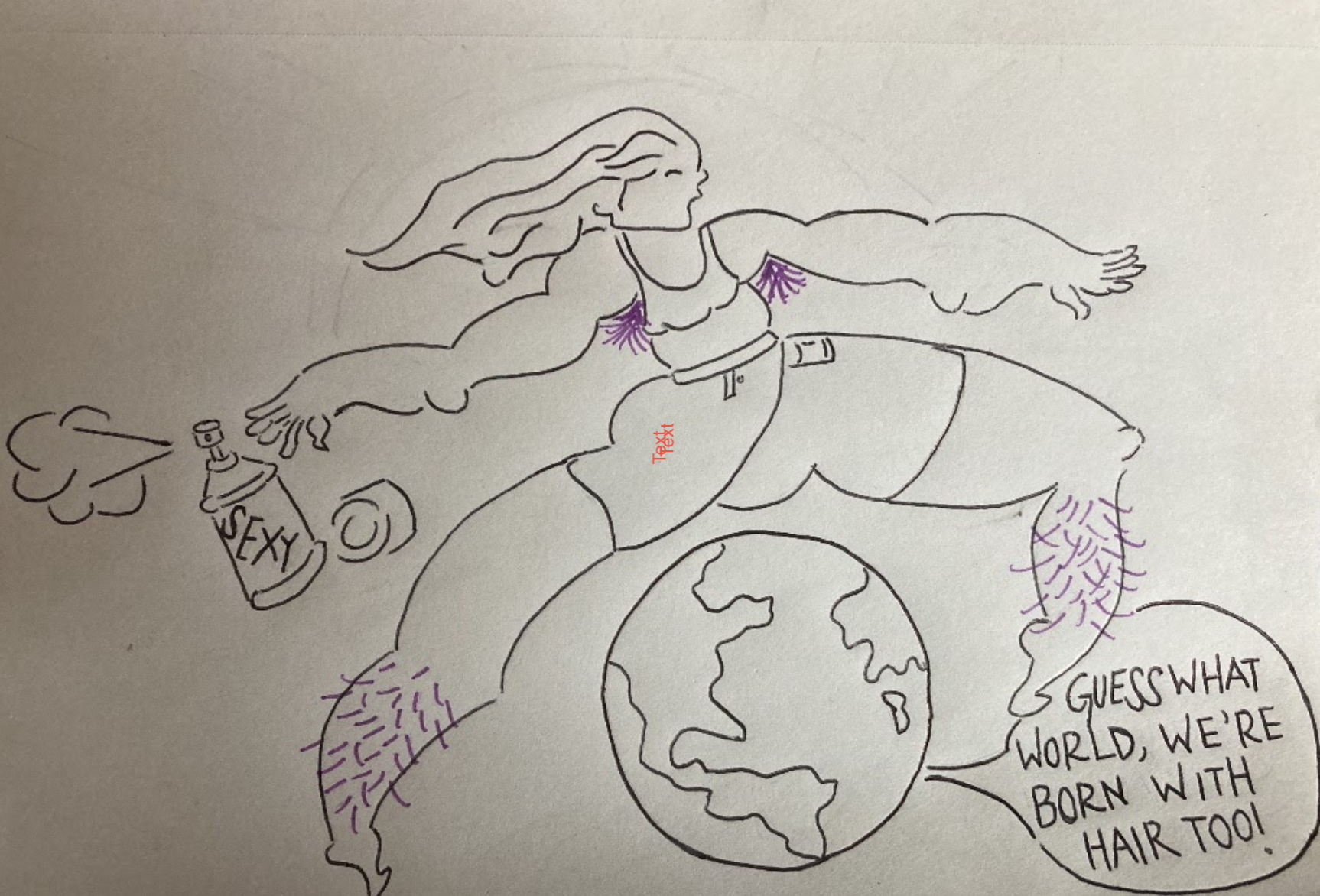 [Artist's depiction of these events by Bella Powers]
Amherst, MA - Hair AnywhereSpray has quite the notorious history in our hamlet of Amherst. Its genesis brought a brief but miraculous remedy for those suffering from baldness and other hair-deficient maladies. This period of hairy euphoria rapidly dissolved when Hair Everywhere Spray was abused by vandals, hoarded by the elitist hands of high society, and became the recurring subject of a slew of hair related accidents.
However, Hair Everywhere Spray seems to somehow be making waves at Puffer's Pond. This local watering hole attracts students, hooligans, and other surrounding wildlife with magnetic force when warm winds sail through the valley. After speaking with several beach goers, it would seem Hair Everywhere Spray has become an integral ingredient in a rebellious feminist furor. Women, especially groups of students, are flocking to the sands to flaunt their gloriously hairy heads, limbs, crannies - you name it. These gals are applying Hair Everywhere Spray to all those places women are told to slap with shaving cream and whittle wee hairs from.
When inquiring about the inspiration for such brazen unshaven congregations, one UMass Amherst student was quick to pipe back, "Guess what world, we came out with with hair too! Legs aren't naturally out here smoother than frickin glass."
Not only that, but they're doing huge hair in psychedelic style. It appears a particular cohort happened upon cans containing chromatic sprays of slews of different colors. An aerial shot of the beach dwellers would likely have given the illusion of a rainbow forming from the earth rather than sky. Who knew racing stripes would ever hit leg hair or that hip hues would so massively elevate armpit allure?
Local officials were initially puzzled as to how students came to possess Hair AnywhereSpray in such seemingly abundance. Our correspondents suspect they found a cache of cans on campus from when UMass PD provided a community wide turn-in for the spray upon its prohibition. It seems like a few hooligans discovered a stash and not only revived its former glory, but transformed it into a tool for feminist agendas. With consideration of how taxing the pandemic has been on our social lives and reluctant to squander any rallying sense of community, local officials abstained from penalizing the youths. They did, however, forbid any cans from leaving the surrounding area and mandated that by the end of the day all cans be turned into authorities to avoid the pandemonium Hair AnywhereSpray previously caused. You may recall one of the ill-famed troubles of this spray was its hydralike regenerative ability. While it certainly seems like these ladies have no need nor desire to hit their hair with a shave, we'll see what dilemmas they encounter should they opt for a trim.
For more articles by Pleakley Pow Pow, click here. To get in touch with this writer, email ppp@surrealtimes.net.
---
POST A COMMENT
---
See Also
Want to read more news? Click here for a random article.