Geographic Oddity Between The Stans
Geography By George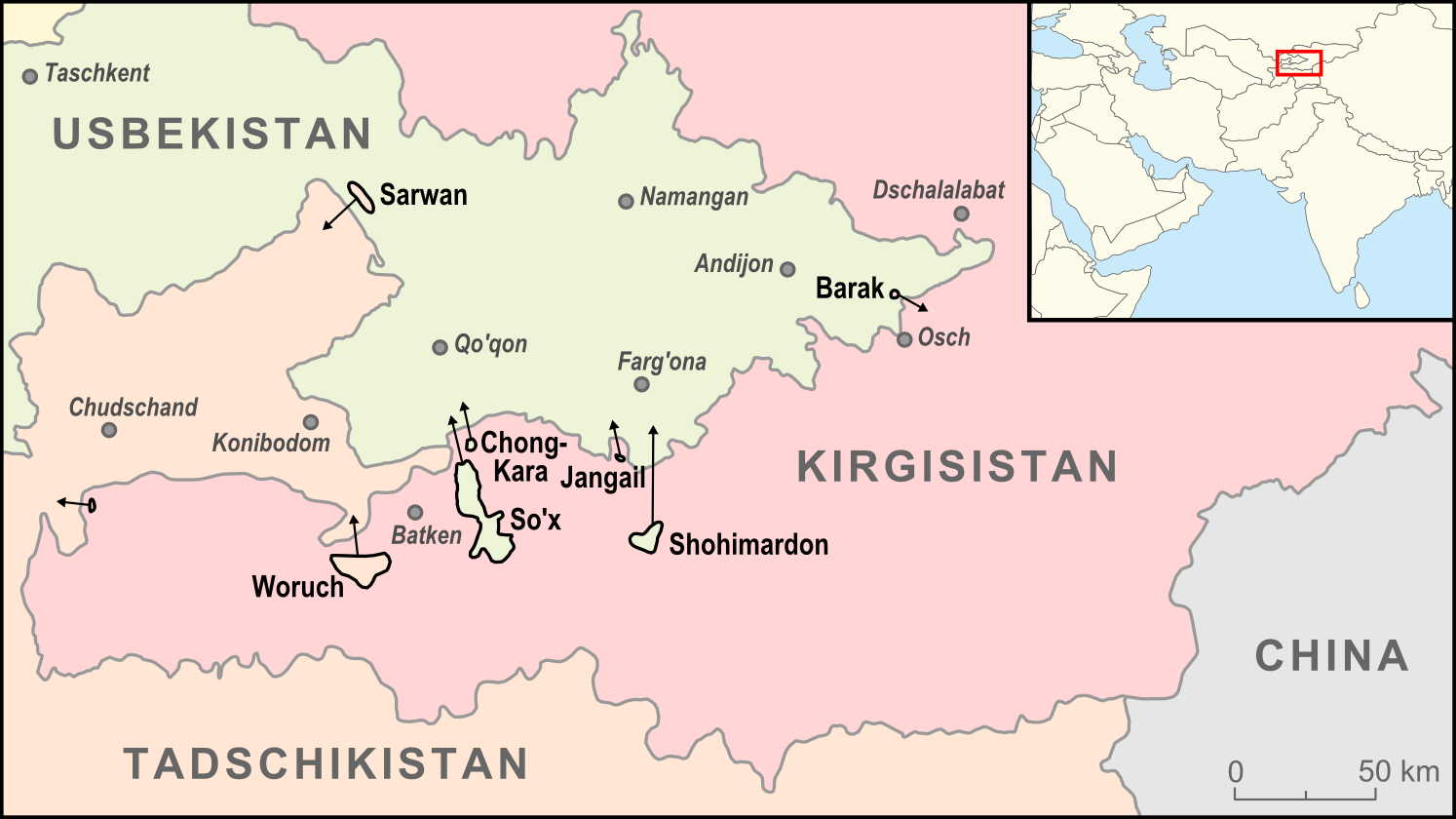 Good day to all! I hope your cartographic thirst has remained quenched in my absence. Along with serving on the board of the International Society of Convening Cartographers, my time has been filled serving as the resident inquisitor for the town offices of Januöava. This is a small village of Kedainiai Lithuania. This has been a very busy and fulfilling position as the residents of Januöava have a voracious need for new types of thinking. Anyway, enough about me. Here is my geographic peculiarity of the week:
The border between Tajikistan, Kyrgyzstan, and Uzbekistan is a convoluted adjacency somewhat resembling a whirlpool or a tie-dye shirt. These borders and others in the region were drawn by the Soviet Union, on the basis of creating ethnically-separated republics with the aim of encouraging nationalism and ultimately communism. Drawing borders based off of this notion caused these complex borders to be created. In the common event that the border missed a group of ethnically similar individuals, an enclave was created.
Luckily for us borderphiles, these enclaves are numerous, about eight in total (from what I have found so far) The largest one, Sokx, really is two separate enclaves connected by a narrow geographic isthmus about 700 feet wide. This enclave is about 20 miles in length from tip to tip. There are three comically small enclaves that are barely a mile across. Sarwan is a dagger of an enclave, measuring 10 miles long and less than 2000 feet wide. The map provided does not do justice to the complexity of this border, so I recommend doing your own research on this incredible sovereign intersection.
Note: While it is fun to observe these borders, sometimes theses complexities can cause extreme hardships for local populations. Luckily for those living on the TKU border, these countries don't have any qualms with each other and residents can move around to their heart's desire.
For more articles by George The Geographer, click here. To get in touch with this writer, email geo.george@surrealtimes.net.
---
POST A COMMENT
---
See Also
Want to read more news? Click here for a random article.