The Carousel of Unending Happiness Just Around a Corner And Under Your Nose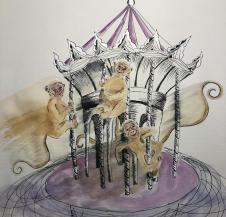 Artist's depiction of the Carousel by Imogene Larkley.
So, the Carousel has caught your interest and has you chewing on the edge of your fingers, all googly eyed. You wait, baited like a lure hooked on lore. The Carousel is coming and let's see what we have lying around to quench your thirst.
In a glass jar, they wait, looking outward for something in the misty midst of nothing on some forgotten shelf somewhere. You see up there I keep my friend, the crooked-faced barrel, bursting at its see-through seems to have no end. A barrel of plastic-faced simians scarily similar to a mirror with too many cracks.
My many monkeys, holding hands, hold rows upon rows of hooked hands. They even hold you, yet you can't feel the warmth of touch anymore. They pull you down way past that grimacing grave, and your dire cries for yesterday's comfort or tomorrow's hope will be muffled and lost in the sea of hands.
See her flicker, waving like she does, from the corner of your eye. Who's that, winking from the bottom of the barrel?
Where the walls greet the floors, it is Somni, a twistedly tuned chimp. She has a slightly cracked mask that sticks in your eyes as much as it does her face. Her shadowy smirk is sewn into the air. A pluck a of that thread and the air wales a long-forgotten ever-so haunting tune.
Her song sweeps any concern aside, "never mind the subtle bubble of doubt", Somni slips you under her breath as your mind turns away and floats down to the whooshing sound of unwalked paths passing you by..
"Let your witless weeping ride". As your tears dip, perhaps they'll fill the barrel and you'll rise up and sail away.
The Sea of hands you swim in rings. The lulling dream-soaked sound of "oohs and aahs and sshhs" and "Ooh ooh ahh ahhs" fades falls into to the background noise that time sculpts into a blanket.
Banana peels are mistaken for the floor as you slip further down. Looking back up, the sky is but a dot, a shadow of a dream lying above while the old world withers away as a Dusty memory in a crusty tomb.
I swear you'll never put it down. The words scream off the page. Check it out from the whirring-whispering-crackling library shelves, The Carousel of Unending Happiness. But perhaps you already have and just don't know it yet.
For more articles by Advertisement, click here. To get in touch with this writer, email ads@surrealtimes.net.
---
POST A COMMENT
---
See Also
Want to read more news? Click here for a random article.