The Carousel Of Unending Happiness Vii
"I think Ophelia is going to be fine," said the one who taught her to fly.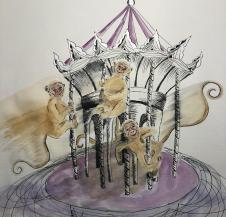 [Artist's depiction of the carousel by Imogene Larkley]
I couldn't believe I'd finally fell for her and just after I threw out all my moldy fairy tales and had given up. That night, she walked into the gardens after speaking to her father's ghost. She took me in her arms and the world was ours. We kissed and talked; spilling our hearts out together, we could blind the moon.
I told my love about how I like to grow flowers from the ash, and how I can see myself in them. She told me she had found her purpose, but she wouldn't say what it was. I don't mind. I only wish she'd build the castle walls a little bit shorter, so I could see her face when I worked in the gardens. There are days I find her drowning in ink and notebook pages. She smiled and said she was writing a play. She made me feel like the only star in the sky, but I only felt alone. I needed space so I walked through my gardens down to the pond, lily pads hang flowers, draping downward through murky water, not knowing that they're blocking out the stars for the minnows below.
Could she see me crying or does choose to look away, it doesn't matter, invisible tears still slink down into the pond. I only know I love her and I can't believe in a world where I could give up on love.
Throwing pebbles passes empty time; the breaks in the water reminded me of the dagger she drug through the painting above her uncle's bed. She didn't know that years before we met, I painted it for her mother, when the room was still hers, back when we were both far too young to guess what love meant. Now, backstage, she's deciding whether to be herself or to run away, to end it all. But no matter what she chooses, she'll leave me behind…
As my tears fell to the pond, a croak broke the water. A peaceful frog, so aged like a poem said to me, "Love's hungry for those with starry eyes, Love's hungry, like water for raindrops, love's hungry, so it lies, love's hungry. If you love and you are loved you'll eat each other and float forever, but if you loved and unloved, love will consume you. Love's hungry, drenched in blood, tears and pastel placenta. Blood drowns the heart, aborts all other feelings. In sleepily stroked impressionistic swirls from a bony hand, sadness, fear, hope, joy, all overshadowed, love's hungry, my dear, loves hungry."
"No" how could that be true "I know my princess, my love she loves me too, she must," blank words still fell down to the peace frog below, I could not tell if she heard them though.
I ran through the gardens, up through the high walls, passed her uncle's room where we played as kids, down to the stage. I burst through the scenery, through the lines being spoken, her play possessed her. She spoke to me like I was a character, like I was something she'd written, foam laced lines bleed from her mouth, her mask or maybe her mission, one or the other seeped into her face. I couldn't recognize her but I still recognized my love. Sad supple love, lost forever in spindling webs. I feel like old musty wood, was I just a pawn in her play the whole time? How could she throw me aside, just to finish her lines? Her Love's lies, tossed feeling aside, it doesn't matter, I know what I feel. My loves left me lonely, I can't stand to be alone, but I can't stand to see her face.
Running from the stage, I passed her uncle's bedroom where the ghosts of our old toys still haunt, through the wall she built so high so she couldn't see me, rounding back to the garden… my only home. Looking down at the Peace frog, she slunk back down into the water, her webbed feet grew up like the flowers I'd grown and sunk down. "Love's hungry," she said. I was hungry too. I lost a child-like life but I kept myself. So I follow her from the garden bridge into the water, feeding my love, of which bones are all that remain, love is hungry tonight. Should I hope the world fall sadder without me, or calm that I went my own way, I will always feel both I can't breathe in the water, but I float, Love's hungry, I only see dark feelings fly, in hungry love. In a dark heavenly blue I float. I am a raindrop, now striding in carousels of unending happiness.
For more articles by Ophelia Jones, click here. To get in touch with this writer, email jones.ophelia@surrealtimes.net.
---
Comments
[Nancy Fortier@Jan.21 1:16am]: Thanks for writing this awesome article. I'm a long time reader but I've never been compelled to leave a comment. I subscribed to your blog and shared this on my Facebook. Thanks again for a great post! https://bmserviceexclusif.com
POST A COMMENT
---
See Also
Want to read more news? Click here for a random article.