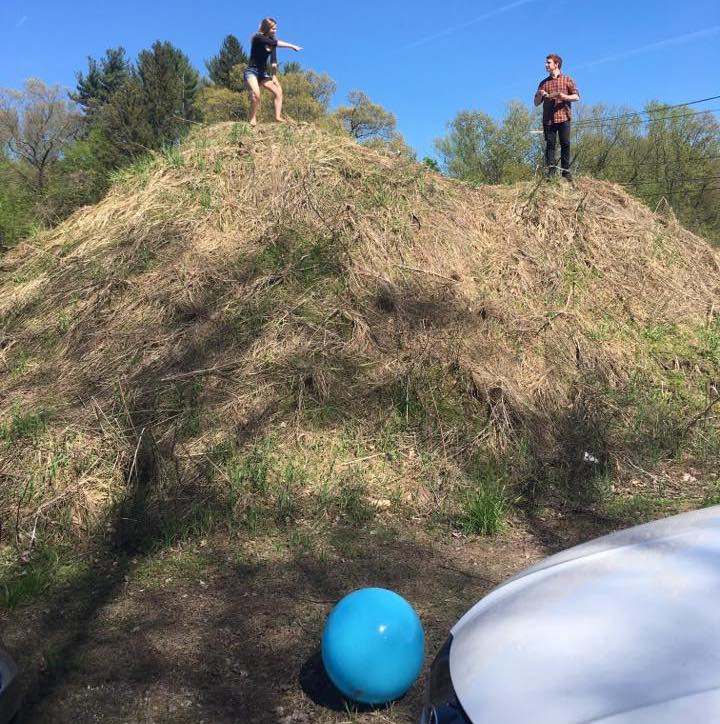 There is a tremendous dirt mound in Sunderland on my usual dog walking route. It divides the property between two houses. On the west side of the mound stands the house where the strange game of BALL originated, and where the most feral, occultist BALL players commune. On the east side of the mound, there is a common suburban home in which a family dwells.
Rumor has it that this mound was built deliberately by the parents of the east side family, in order to protect their children from witnessing the troublesome sight that is the ever-evolving game of BALL.
For a long time, the mound has remained the same size. But, as BALL players have brought their game upon hills, rooftops, rabbit holes, and other places, it appears the neighbors have grown increasingly weary of the BALL house. As a result, they have been building up their mound higher and higher every day.
The father explained, "We can't have our kids seeing this… this 'game', those neighbors of ours play. That's a game for animals and punks. It's simply not in the cards."
For more articles by Sherry Wolverton, click here. To get in touch with this writer, email wolverton.sherry@surrealtimes.net.
---
POST A COMMENT
---
See Also
Want to read more news? Click here for a random article.