Surreal Times 5 Under 5 List
Paul Kruger, Times Staff Writer, kruger.paul@surrealtimes.net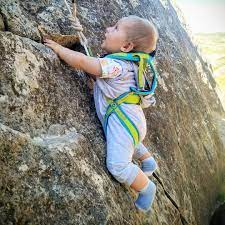 After scouting millions of small children, our staff members hand selected the 5 most remarkable children who we felt best exemplified the future leaders of the world. Their stories will hopefully inspire young people to live with courage, creativity, and ambition.
1. Brian Doneger. Age: 1 year 3 months
This little rascal is the first baby to ever crawl up Mount Everest. You read that correctly. Before little Brian could even walk, he summited the peak of Mount Everest without any assistance from ropes or ice axes. It was an epic and daring adventure, but he made the trek look easy, completing the journey in just under 3 weeks' time. Once he reached the top of the mountain, Brian celebrated by shotgunning an ice-cold Bud Light which he opened by smashing the can on his skull while yelling out, "America rules!" As for his next feat, Brian told The Times that he is looking forward to building up the leg strength to walk without his Mom's assistance.
2. Josephine Gordeen. Age: 2 years 11 months
This young rising star has already lost her baby teeth and has a full set of pristine permanent adult teeth. "I couldn't believe my eyes when her front tooth fell out on her first birthday," exclaimed Josephine's mother, Cathay Gordeen. While other children typically lose their baby teeth at 6 or 7 years old, Josephine has already lost every single one of them before her third birthday. Unfortunately, however, her grown-up teeth are too big for her little mouth, and she struggles to talk, chew, and swallow. She has also been the recipient of intense bullying from other preschoolers due to her awkward appearance.
3. Chad Johnson. Age: 6 months
Chad Johnson is the baby known around the world as the "Shredded Baby" due to his lack of baby fat when conceived. From the moment Johnson erupted from his mother's womb, he had washboard abs, a sculpted butt, and the calves of a Greek god. Instead of crying like a normal baby, Johnson immediately started doing one handed push-ups on the floor of the hospital room where he was born. He is rumored to be releasing a workout DVD to inspire other toddlers to lose their pesky baby fat.
4. Patricia Langston. Age 4 years 6 months
Patricia has accomplished the amazing feat of becoming a highly successful and feared leader of a ruthless drug gang. She leads an operation suspected of smuggling 15 tons of cocaine and heroin into the United States every week, and her estimated net worth is upwards of $200 million. Sometimes nicknamed the "hand chomper" due to her propensity to bite off the fingers of anyone who dares to challenge her authority, Patricia has a bright future ahead as a #GirlBoss.
5. Martin Graves. Age 3 years 10 months
Little Martin is the youngest president in the history of Florida State's infamous Pi Kappa Alpha fraternity. Known cordially around the frat house as "top dog" or "big guy," Martin rose the ranks of the frat by downing a 24 rack of Natural Lights in under 3 minutes. "Martin's just an absolute unit," says fellow brother Tom Ambicky. As for his plans for the future, Martin told the times, "I'm just looking to chill with the boys, throw some wild darties, and graduate as a living legend on campus."
For more articles by Paul Kruger, click here. To get in touch with this writer, email kruger.paul@surrealtimes.net.
---
POST A COMMENT
---
See Also
Want to read more news? Click here for a random article.