Disgraced Surgeon Pioneers Eyeball Relocation Procedure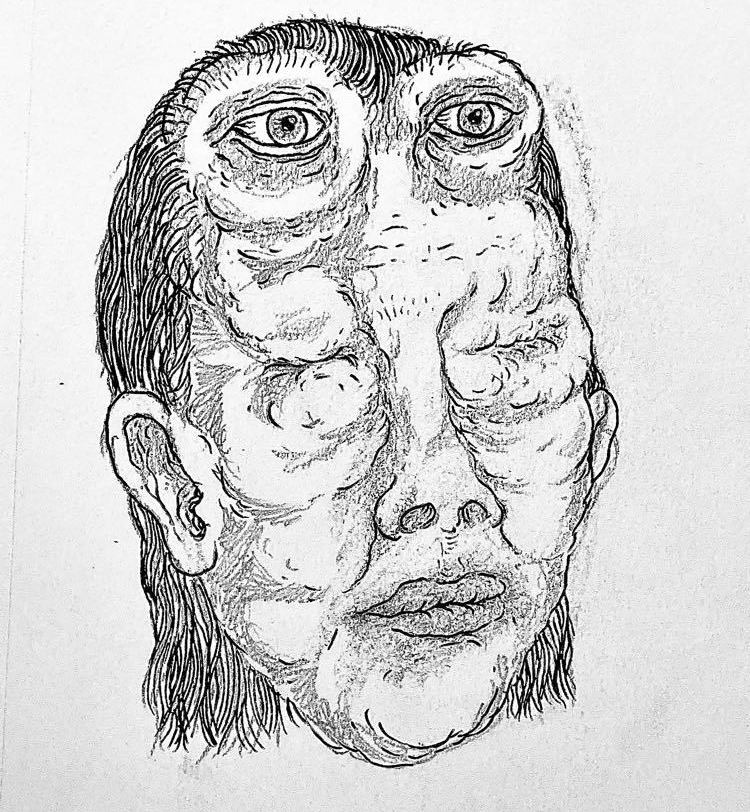 [Artist's depiction by Sawyer Philips]
After losing his medical license for performing unsuccessful open-heart surgery on a fish, Dr. Charles Elizabeth thought he would never practice again. Three years later, he's started a semi-legal private practice that boasts an exclusive operation already recognized for its innovation and unorthodoxy. His signature procedure, in which the eyeballs are transplanted into the top of the forehead, claims to increase the patient's perception of their height by two to three inches.
"We only feel as tall as our eyes," Elizabeth explains. "We have foreheads and hair and in some cases, unfortunate eyebrow piercings, but we only perceive our height to match that of our eyes." According to Elizabeth: Raise the eye level, feel taller. And more importantly: Feel taller, become more self-assured. "What I'm selling isn't the most attractive update to the human face since sideburns, though that certainly is the case. The real benefit my clients receive is confidence."
Indeed, many patients have reported an increase in self-esteem. "It's so rewarding to enjoy the privileges of height, like commanding respect and flaunting a superiority complex. I'm so confident I've even thought about developing a meaningful relationship!" gushed one delighted man. Others have called the operation enlightening. "Feeling taller has made me realize that my problems run much deeper than I previously thought. No longer can I attribute my failing marriage to a sub-six-foot perspective of the world."
Not all reactions have been so positive, however. Some children — unaware that the procedure doesn't actually boost physical stature — were dismayed to discover that, after self-inflicting a lifelong deformity, they still didn't meet the height requirement to ride the roller coasters at nearby Universal Love Studios, a newly-opened amusement park committed to celebrating people of all shapes and sizes.
Still, Elizabeth guarantees customer satisfaction, though he admits some patients have complained about the "unrelenting, unescapable agony" during surgery. "It's incredibly painful," commented one transplantee. "Borderline torture. Honestly, I couldn't tell you the worst part: whether it was prying my eyeballs from their sockets, or carving two holes in my forehead where my eyeballs were to be re-inserted, or perhaps the fear caused by the temporary blindness in between. But was it worth it? I don't know. Maybe. But it really hurt."
As Elizabeth's practice continues to grow, so does the risk of being shut down by the state of California. "I'm really sorry about the fish," he laments about his checkered past. "I know I shouldn't put this on record, but I didn't even realize it was a fish." In case he is forced to change course, Elizabeth revealed he may transition to transplanting eyeballs into palms "so those self-righteous museum docents can't say, 'Look but don't touch!'" Until then, he will continue to provide the world's least conventional treatment for the vertically challenged.
Due to a non-disclosure agreement, the fish's family was unable to respond to The Surreal Times' request for comment.
For more articles by Bartholomew Bax, click here. To get in touch with this writer, email bax@surrealtimes.net.
---
POST A COMMENT
---
See Also
Want to read more news? Click here for a random article.