News Pirates Hijack Distribution Box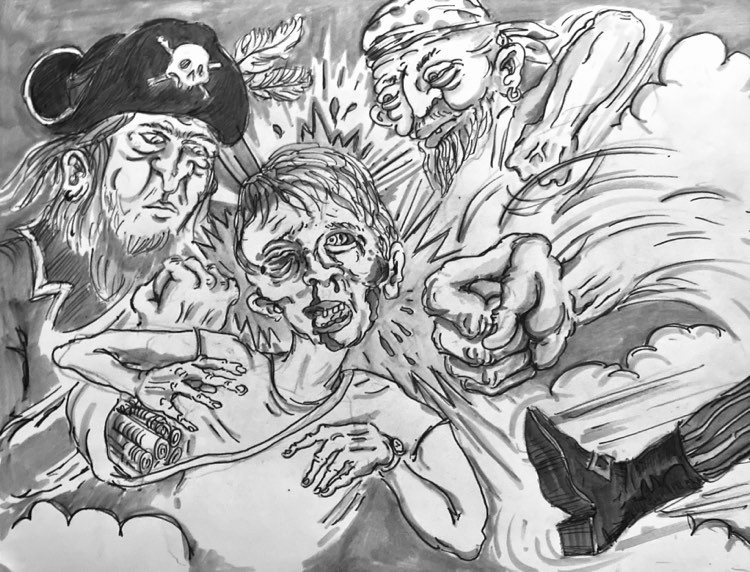 [Artist's depiction by Sawyer Philips]
ECHO PARK, Los Angeles — A competing news organization, disguised as pirates, vandalized the The Surreal Times news distribution box located at Echo Park Lake. They covered the box with graffiti and removed its stickers. Surreal Times staff arrived at the scene ready to paint over graffiti, but what happened next was both surprising and startling.
As Dernberger Spengleton and his collaborator, Sam, worked to cover the graffiti, three figures in dark clothing approached. "What are you writing?" one asked. "What the fuck do you think you're writing?"
"I'm just cleaning up some graffiti," Dernberger said, "This is our distribution box and we're tending to it."
"Do you know where you are? Do you know these tags mean?" the leader of this group asked as she postured and pointed to the many graffiti taggings on buildings and street signs all around. "This may be your box, but this is our park."
"I'm sorry," Dernberger said, at the same time, noticing a "Murderer on the Loose" flyer on a telephone pole nearby.
"This is not your box anymore," the woman said. "Now get out of here kid. You don't know what you're dealing with."
Dernberger and Sam quickly fled the area, discouraged at the thought of surrealist news being censored, but fully aware that this was out of their control.
This is a sad day for journalism and for democracy.
For more articles by Times Staff, click here. To get in touch with this writer, email management@surrealtimes.net.
---
POST A COMMENT
---
See Also
Want to read more news? Click here for a random article.